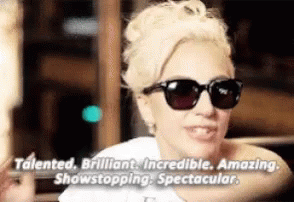 That's Gaga's Super Bowl performance summed up in one GIF.
She had it all, LIVE singing, dancing, fire, lights, outfit changes, fireworks, jumping off buildings… NO BIG DEAL. It felt like a huge party and we were all invited.
I'm just going to come out and say it. Lady Gaga's halftime show was way better than Beyonce…
If you haven't seen it, here's the full video below. And if you have seen it… watch it again. It's that good.
AND she announced a WORLD TOUR right after! Bad news though…. no stops in Ottawa. You'll have to roadie it to MTL or TO for that one.
Sept. 4: Bell Centre, Montreal, QC
Sept. 6: Air Canada Centre, Toronto, ON
Both on sale February 13th!
Did you like Lady Gaga's halftime performance?
Poll closed: Feb. 28, 2017 @ 12:00 AM