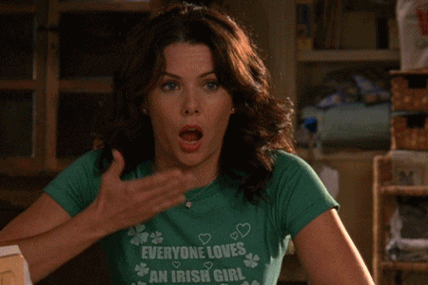 When it was announced that Netflix was bringing back The Gilmore Girls for a 4 part re-boot event… fans lost their minds.
Now it's getting closer… it all starts November 25th.
Entertainment Weekly got a hold of the first page of the re-boot script. And they definitely take a shot at Gwyneth Paltrow.
Lorelai: You've been stuffed in a glorified tin can for seven hours surrounded by people with consumption and diptheria, scabies hummus dips, rabid dogs and drugged up children attacking your seat and stealing your change.

Rory: What airline are you flying?

Lorelai: You should look drawn and blotchy. You should be singing "I Dreamed a Dream" with a bad haircut while selling yourself to French dockworkers. Instead, you look perfect. Admit it. You've been Goop'd.

Rory: I have not been Goop'd.

Lorelai: You do yoga in the aisles wearing cashmere sweatpants while your comfort dog watched "Zoolander" on his watch.
You can read the full first page at Entertainment Weekly. All the details below!