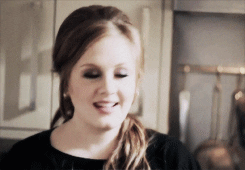 Sorry Adele fans…. she won't be perfomring at the Super Bowl in Houston next year.
Rumors circulated last week that she was asked to be apart of the half time show for next years big game…. but on Saturday during her LA concert, she discredited those rumors…
In the video above you can hear Adele saying they did ask her…. but Sunday the NFL and Pepsi made a joint statement saying that they didn't even approach her about it…
"The NFL and Pepsi are big fans of Adele. We have had conversations with several artists about the Pepsi Super Bowl Halftime Show. However, we have not at this point extended a formal offer to Adele or anyone else. We are focused on putting together a fantastic show for Houston and we look forward to revealing that in good time."
Hmmmm. Why would Adele claim they asked her? Maybe she is performing and it's all a big cover up? Who knows. We'll have to wait and see! Full story below!